About the Choir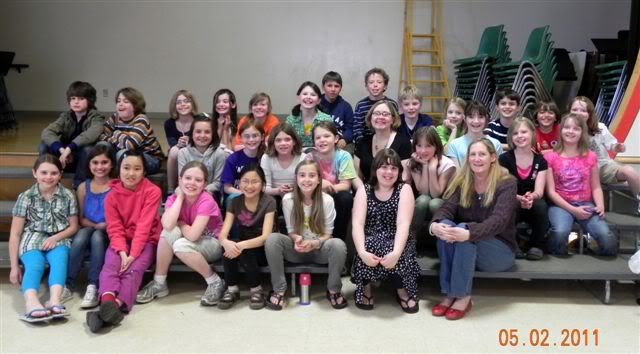 The Harraseeket Singers is a preparatory choir where students in grades 3 through 5 learn to sing music in unison and in parts, all within a group setting.  Sight singing and ear training is taught using solfege, the application of sol-fa syllables and corresponding handsigns to a musical scale or melody.  They also develop perfomance skills to prepare for two or three performances each year.  The Harraseeket Singers meet weekly at Mast Landing School in Freeport on Mondays from 4:30-5:45pm.  Previous choral experience is helpful but not required.  (Formal photo by Soggy Dog Designs)
About the conductor
Renovia Marro-Day, has been the director of the Harraseeket Singers for over ten years.  She is also the choral director at Mount Ararat Middle School in Topsham, Maine.  Prior to joining Wescustago Youth Chorale in 2009, Renovia was the assistant director of the Southern Maine Children's Chorus.
Renovia completed her musical studies at the University of Southern Maine in 2001, receiving her bachelor's degree in general music education and in 2006 receiving her master's degree with a focus on choral techniques.
Her studies have led her to present numerous workshops at Maine Music Educators All-State Conferences as well as Music Educators National Conference in Baltimore, MD.  Renovia's presentations have featured her work in choral literacy, boy singers, children's choir and technology.
Renovia lives in Topsham with her husband Dan, two sons and two cats.
Watch the Harraseeket Singers in the Spring 2010 Concert
[youtube=http://www.youtube.com/watch?v=aIVVTDR68mM]